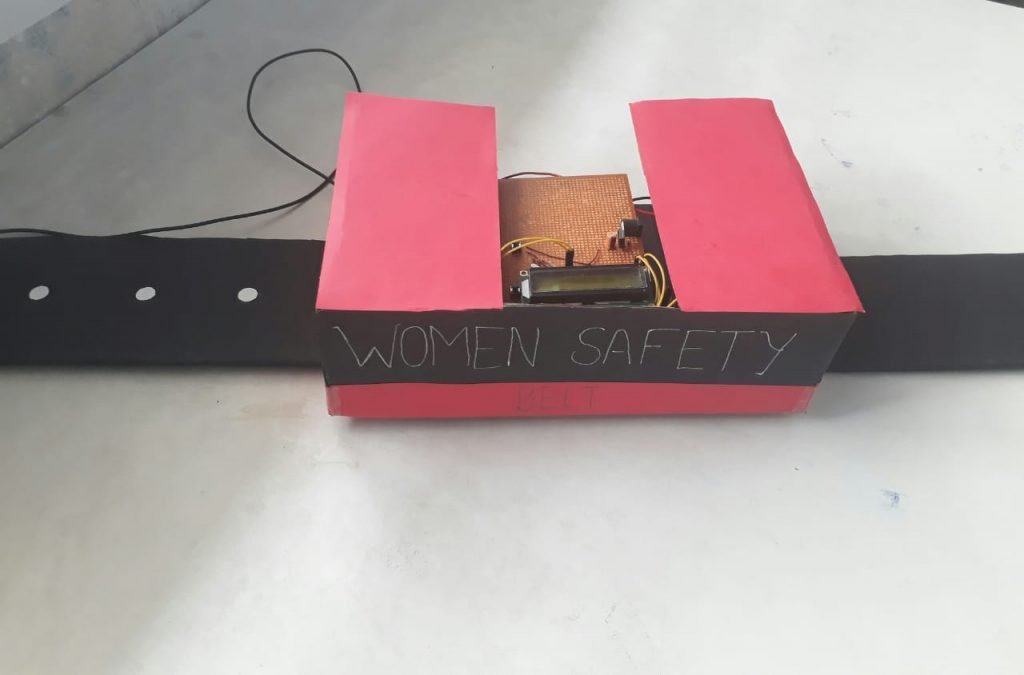 INTRODUCTION
In today's world, women safety has become a major issue as they can't step out of their house at any given time due to physical/sexual abuse and a fear of violence. Even in the 21st century where the technology is rapidly growing and new gadgets were developed but still women and girls are facing problems.
 The device descried here is a self defense system specially designed for women in distress to help them to protect themselves. This device can be fitted in a purse, belt or fitted to the girls sandals and the panic button attached to the belt. The lady in danger can activate the system by pressing emergency button on belt or tilting her sandal. It is a simple and easy to carry device with wide range of features and functionality. The basic approach is to intimate instant location and a distress message to the cops and registered number like parents, friends, media, and women cell etc. so that unfortunate incidents would be averted and to provide real time evidence for swift action against the perpetrators of crime against women.
EXISTING SYSTEM
Keeping the same concern in mind many developers have come up with innovative applications. Few of such applications are as follows-
1. VithU app: This is an emergency app initiated by a popular Indian crime television series "Gumrah" aired on Channel [V]. In this app when the power button of the Smartphone is pressed twice consecutively, it will begin sending out alert messages with a link to the location of the user every two minutes to the contacts fed into the app.
2. SHE (Society Harnessing Equipment) : It is a garment designed by three engineers from Chennai. This garment has an electric circuit that can generate 3800kv of current which can help the victim to escape. In case of multiple attacks it can send upto 82 electric shocks. Since the fabric is bilayer, the user is not affected. It can also send emergency messages.
3. ILA security: The co-founders of this system, McGivern, James Phillips, and Neil Munn , have designed three personal alarms that can shock and disorient potential attackers and draw attention to dangerous situations.
The proposed system is to design a portable device which resembles a normal belt. It consists of Microcontroller, GSM/GPS modules, screaming alarm and pressure sensors.
When the threshold of the pressure sensor crosses, the device will get activated automatically. Immediately the location of the victim will be tracked with the help of GPS and emergency messages will be sent to three contacts and one to police control room every two minutes with updated location
The screaming alarm unit will be activated and will send out sirens to call out for help. The system is also capable to generate an electric shock to harm the attacker which may help the victim to escape.
AIM OF PROJECT
This paper proposed a new model for the women security in public places which aims to provide the 100% safe environment.
Our effort behind this project is to design and fabricate a gadget which is so compact in itself that provide advantage of personal security system.
BLOCK DIAGRAM
 COMPONENTS
POWER SUPPLY
SWITCH
AT89552 (MICRO-CONTROLLER 8051)
GLOBAL  SYSTEM FOR MOBILE (GSM – SIM 900) MODULE
GLOBAL POSITIONING SYSTEM(GPS – SIM28M) MODULE
WORKING OF BLOCK DIAGRAM
Power supply: It will provide power supply to all components connected to microcontroller.
Switch: It in turn enables simultaneously the android device used to activate the GPS system which tracks the position in the form of latitude and longitude.
Microcontroller: The microcontroller does all controlling activities of the system by executing a program stored into its flash program memory.
GSM Module: The GSM modem to send warning SMS to the store registered number in the modem. The automatic positive acknowledgement message gets send to the remote GSM modem which in turn interrupts the microcontroller for an alarm.  
GPS Module: The GPS system which track the vehicle position in the form of latitude and longitude.
ADVANTAGES
Safety Device which can be carried by everyone
Ultra low power consumption.
Compact in size.
Wireless connectivity.
Easy and fast to install.
Easy Maintenance
Low cost with high performance.
Works round the clock.
Fast response.
Environmental friendly system.
APPLICATIONS
Can be used for the safety of women.
Can be used for the safety of children.
Can be used for the safety of elderly aged people.
Can be used for the safety of physically challenged people.
Can be used as a legal evidence of crime with exact location information for prosecution.
CONCLUSION
The creation of a hardware and software prototype has achieved two objectives: validation of the proposed architecture and checking whether the utilized technology is Appropriate for the system. This system will help its users in difficult situation. This system would be highly sensitive and easy to handle. Its quick action response will provide safety and security to individual user.